SkyView is an extremely easy to use and powerful program for image effects, presentation and printing. It has a superb set of image operations suitable for digital photographers, web developers, print publication, and 3D animators.

The program maintains a full 32 bit per channel (128 bit per pixel) image path for uncompromised quality and lossless enhancements. Photo quality effects such as drop shadows, seamless tiling, and chroma keying are applied equally well to a single image or multi-thousand image projects.

The presentation feature has been designed to show off your images in their best possible light and is especially adept with high definition, wide-screen displays.





Call 1 (406) 535-5127 to learn more about SkyView and SFX-3D - our Adobe plug-in for special effects.

Call to order or download an evaluation copy of SkyView (regular) at download.com ...


More about SkyView

View your images directly in the program window or fullscreen (with support for widescreen HDTV monitors).


No need to make view lists or slideshow projects. A single click starts the presentation.


Sequentially display a single folder or multiple folders of images with 100's or 10,000's of files.


Control the scaling (letterboxing) style, time between frames, and presentation quality.


Make live adjustments to the sizing, timing, and all other controls as the presentation runs.


Select single images, multiple images or apply a name filter to find related files in large image libraries.


Will recognize your image types even with missing or incorrect file extensions (the .TIF part of file names).


Supports most common file types: JPG (JPEG files), TIFF, GIF, PNG, PCD (Kodak PhotoCD), BMP (Windows Bitmap), PSD (Photoshop), PCX, Apple PICT, Kodak CINEON, and many more.


Pause and click control for business presentations.


Overcomes the 'missing highlights' problem seen in other PhotoCD viewers.


Maintains a full 32-bit per channel (128-bit per pixel) image path for your professionally scanned photos.


Useful 'VCR' controls like Rewind, Back a frame, Forward a frame, Skip, Pause, Advance, etc.


Advanced photo printing with multi-image layout options.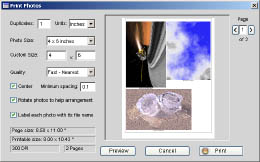 Image enhancements and photo corrections such as restoring faded photos.




..and remove noise.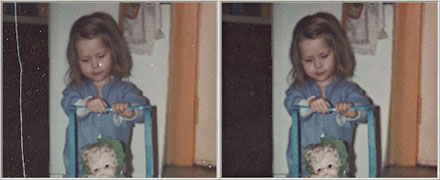 Print and web page effects such as seamless tiling, edge feather, compose and chroma key.



Affordably priced at $39.95 per copy. Requires Windows 2000, XP or later. Call to order or
© 2001-2008 Skylark Technology, All Rights Reserved. For comments send e-mail to

. Security and Privacy